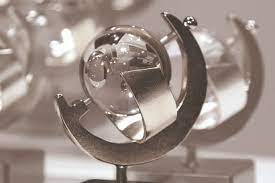 EUROSOLAR established the European Solar Prize in 1994 to celebrate renewable energy pioneers across Europe – and world-wide. Since then, the European Solar Prize has been awarded to more than 250 local and international actors from all parts of society. The award recognises towns and municipalities, communities, associations or organizations, architects, journalists and dedicated individuals. The European Solar Prize connects people who are paving the way to a renewable future with their innovation, commitment and work to implement the rapid energy transition to 100% renewable energy.
The European Solar Prize is awarded in a different European capital city each year. EUROSOLAR is proud to present and award one of the most prestigious prizes in the field of renewable energy today: this year's Award Ceremony will be held on December 2nd and broadcast on December 3rd 2021. You can watch it here.
December 3, 2021    The Dutch Eurosolar Section virtually hosted the European Solar Prize Award.  As host country, the city of Amsterdam was highlighted through a short video about  oldest secular building in the city, De Waag and it's historical relevance to social transformation.  Amsterdam's deputy mayor, Marieke van Doorninck, opened the event with a welcome and an introduction to two projects in Amsterdam's South East:  Energy Lab Southeast with a local Biodigester project, and the Taibah-mosque.  The mosque has replaced it's use of natural gas with electric heating, and is on it's way to becoming totally energy neutral (while continuing to generously serve the community).   Energie Samen, the umbrella organization for energy cooperatives in the Netherlands, and sponsor for this event, also gave a short presentation.
The winners of this year's European Solar Prize Award were, according to »category«:  
»Cities, Municipalities, Districts, Public Utilities« :  The City of Paris (FR) and Berliner Stadtwerke (DE)
»Solar Architecture and Urban Planning«: Bildungscampus Seestadt Asperin (AT)
»Industrial and commercial enterprises or farmers« : SUSI Partners (CH)
»Local or regional associations/organizations« : Thuisbaas (NL)
»Owners and Operators of Renewable Energy Facilities« : Ørsted (DK) 
»Transport and Mobility« : Magglingen funicular railroad (CH)
»Education and Vocational Training« : Eurac Research (IT) and EFdeN (RO)
»One World«  Solafrica (CH)
Bas Eickhout (member of the EU parliament) closed the award ceremony with an informative and inspiring word.
Watch the event:  on YouTube or on EUROSOLAR's website.